Serious about tackling dust
Port users have been implementing leading dust mitigation and management practices for the past decade and, through PHIC, work collaboratively to continuously improve industry's performance on dust.
We have been working with relevant government departments, through the Port Hedland Dust Management Taskforce and reporting on the Port Hedland Air Shed for the past decade.
In that time, we have seen substantial progress made with dust levels maintained despite throughput of export tonnage at the Port of Port Hedland almost doubling between 2012/13 and 2018/19.
Port users have a range of dust controls in place and work to implement leading dust management practice measures. These dust controls vary from operation to operation in accordance with individual licence conditions and/or site contexts.
These include but are not limited to:
Dust elimination: Focuses on the control of dust, such as moisture control of product from the mine to ship loading using water spray systems at key operational areas of storage and handling, and the growing of vegetation shelter belts.
Engineering controls: Such as wind barriers, enclosed chutes on ship loaders, dust covers on car dumpers, sealing of major traffic areas etc.
Administrative controls: Policies, plans, procedures and work instructions to personnel to ensure effective management of materials.
Dust exceedances are investigated and reported to the regulator – (DWER) by individual port operators in accordance with their specific licence provisions.
PHIC communicates honestly and transparently and has shared real-time monitoring data and reporting on dust monitoring since 2013.
Government also has a key role to play in implementing exposure reduction through planning controls, memorials on titles and education.
While PHIC members are competitors in the marketplace, through PHIC industry advances investment in new technology and innovations and shares information, experience and knowledge to ensure continuous improvement of dust management in Port Hedland.
It is through industry and the community working together with a common goal and a shared vision to make Port Hedland a vibrant, enjoyable place to live while at the same time ensuring the sustained growth of the Port that will deliver prosperity for all.
Taplin Street dust analysis in relation to industry growth
PM10 levels recorded at Taplin Street have remained within the interim guideline for exceedances over a 12-month
period for several years, alongside an increase in iron ore exports through the Port of Port Hedland – increasing from
280million tonnes in 2013 to more than 520million tonnes more recently.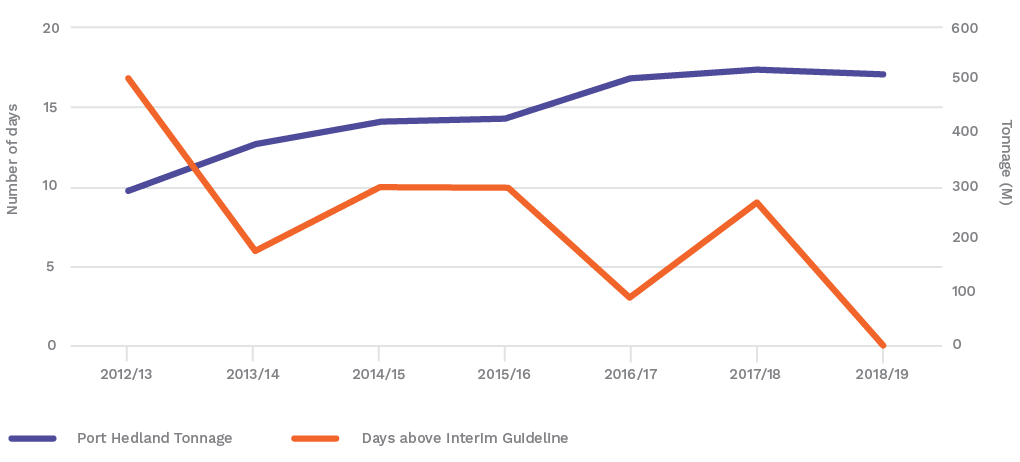 Stay informed with news and events